Unofficial Translation from The Phnom Penh Post's Khmer edition
TUESDAY, 6 OCTOBER 2015,
TONG SOPRACH
តើយុវវ័យហ៊ានជះទឹកអាស៊ីតដាក់គ្នា បណ្តាលមកពីការរួមភេទមុនថ្ងៃរៀបការ?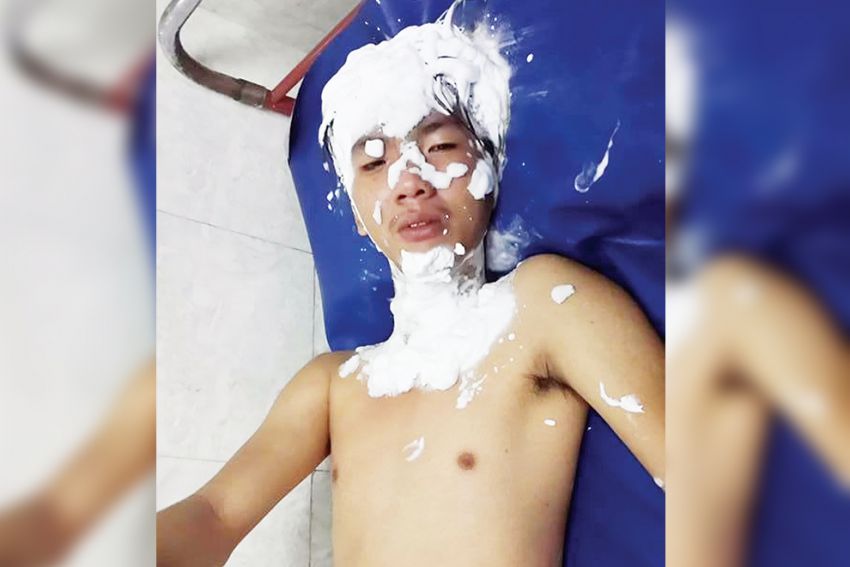 Acid attack, a form of gender-based violence, in Cambodia's society, in general, it happens during a triangle love when a wife becomes jealous of her husband who she thinks is perhaps involved in any young girls or an actress. She may vent her anger by using acid to attack.
However, the people involved in the acid attack in the previous week were all in their teens as former sweetheart, which seems unusual since the common ways to settle love dispute among teenagers are brawling against the third person or suicide.
So, why did they use that acid attack?
Young love is the thing of nature, everyone knows that. Yet, the question is what degree of their love? It just says "love" or reaches sex before married?
Simply if young people just say "I love you", they changed their minds to break up of they fall in love. The couple is only a little bit pain and then they get better soon because no one lose virginity or cheated. But if young people fall in love and become involved in sex before marriage and then one of the partner, who is cheated and walked away without missing, their partner becomes very painful and shameful. In Cambodia's context, on some occasion, the suffering partner would choose to commit suicide or while some of them would do anything for revenge to the wrong doer.
Based on my research paper for my master's degree in Public Health in 2008 on the impacts of premarital sex among young people in Cambodia, most relationships are driven to their end by the men, causing the women to suffer from broken hearts and lead to revenge their partner later. Such as the term of "Prean Neary" (woman hunter) refers to a young man has a lot of experience to having sex before marriage with different women. And sometimes accompanied with mocking the term "Mahop Del Ker" The comparison of foods which were eaten refers to a woman who was penetrated and does not have anyone to get married with (Tarr, 1996). These are the possible cause that pushes the women to seek revenge through various forms of violence.
On the other hand, impact of premarital sex is also the root cause of many other deviances such as unwanted pregnancy, young males called his peers to rape his girlfriend when he wanted to break up and even human trafficking.
This is the roots cause of love relationship among young people, but the use of violent means, such as acid attack, is not the practical solution in dealing with love disputes which types of an act of homicide or attempted murder by implementing the Acid Law was enacted in Cambodia since 2012 and its sub-decree on the Formalities and Conditions for Strong Acid Control was passed to implement the law since 2013. As example: acid attack case in March this year, the perpetrator was sentenced in life in prison due to the victim's death.
According to this law and its sub-degree, the penalties are severe for homicide and attempted murder. The offenders could be sentenced to from 15 to 30 year or even life in prison. Also, the people who do not have license to buy, sell, and carry acid (over the limitation of strong acid amount) will be heavily fined, up to from 20 million to 50 million riels.
In the previous week's acid attack, the girl, the 21-year-old and translator, who doused her ex-boyfriend, the 20-year-old and student, with acid while driving his motorbike and she seated behind, was also slightly injured and brought to a hospital or a private clinic.
Helping for the medical treatment immediately is an important, but it is not clear why the police or any authority did not arrested that girl immediately? Or did they have any sort of settlement with the hospital or private clinic to which she was brought? How could she leave that hospital or private clinic and post a mocking photo on Facebook? Because this is legally considered a crime, the hand of offender must be handcuffed even allowing her to receive first-aide as human-being, but not letting her go like that.
With this case, the police have to investigate and arrest the offender to bring her to the court for persecution. The penalty should be heavy, in accordance with the criminal and acid laws, to set an example to warn all other young people. Meanwhile, if any private clinic or hospital conceals the offender, they must also face certain enforcement measure by hiding the offender or not cooperating with authority.
This is a lesson learned about what we can do in order to address this case, to raise awareness for teenagers to think clearly about any consequence before deciding to be involved in sexual intercourse with their lovers before getting married.
Because sexual relationship does not appear outside activity and make many people feeling shy or consider sexual affairs embarrassing and afraid to talk about due to it is very sensitive and dangerous. There are many people who become angry, jealous, and hateful, which in turn, lead to violence or even murder by acid attack, shooting and so on due to sexual involvement.
Therefore, the best way to solve this matter, is for young people to be absolutely clear about the consequences of their decision before sexual intercourse.
Tong Soprach is a social-affairs columnist for the Post's Khmer edition.
Comments: soprach.tong@phnompenhpost.com