Unofficial Translation
TUESDAY, 15 JULY 2014
VOICE OF AMERICA HEADQUARTER
WASHINGTON D.C
BY POCHIN CHOEUNG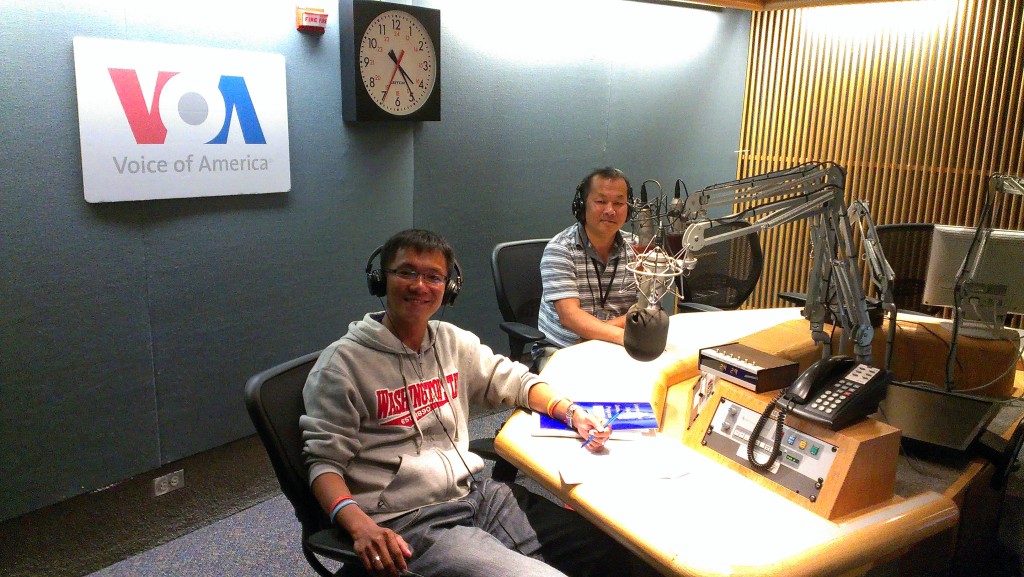 Welcome to the Voice of America in Khmer!
Good Morning, dear listeners! Today is Tuesday, the15th of July 2014. I, as well as my associate, welcome you from the Washington D.C.
For today broadcasting, we present to you the interview with Mr. Tong Soprach, a Cambodian social analyst and a participant in the "Youth and Community Conflict Resolution" program initiated by the Department of States of the United States of America through US Embassy in Cambodia.
VOA: Good Morning, Mr. Tong Soprach!
Soprach: Good Morning, Mr Pochin!
VOA: Welcome to the VOA studio in Washington D.C., and we really appreciate your presence here. For what reasons have you come to the Washington D.C.?
Soprach: I have come here as a participant in an International Visitor Leadership Program. This program has been called as the "Youth and Community Conflict Resolution", it is one of IVLP program.
VOA: Does this program focus on youths or ordinary citizens?
Soprach: This program focuses on both youths and community. To be specific, it deals with the activities of young people and their effects on and relation to the communities.
VOA: How many days will this program take? Have you been any other places beside Washington D.C.?
Soprach: This program will take three weeks, and it includes five locations in the field trip: Washington D.C., New York, Minnesota, Wyoming and Los Angeles.
VOA: To what extent do you consider the program's importance?
Soprach: This program is crucial for Cambodia, where the conflicts caused by some groups of youths, better known as gangs(Kmeng Tomneng), and their activities are causing so much trouble. For example, violence usually breaks out among them while they are dancing in the wedding or other celebrations due to some small arguments and bad temper. Worse, some start the fight because they are not pleased when they are stared or looked at directly on the face, which they consider as rudeness or humiliation. These problems emerge as our concerns. Furthermore, most parents are not only afraid that their children may become the gang members but also that they will bully or harm their children. Furthermore, the entire communities find them as a threat to their security.
VOA: As you have mentioned, these problem seem to be extremely serious in Cambodia. What are your plan and tactics to tackle with them when you go back to Cambodia?
Soprach: From what I have learned from the program, there are many ways to deal with these problems. For instance, we can directly teach all those youths about it in courses or the formal education. We can also make the (enforcement) national youth policy and their activities. Besides, this program involves meeting and sharing experiences with many officials, from the government of the United States and many other countries, who experience working with youths and conflict management resulted from their activities. Most of countries those officials come from are the ones with the experience of encountering and dealing with wars and post conflicts, such as Cambodia, Nigeria, Palestine, Egypt, Nicaragua, Turkey, Israel, and so on. For me, I have come here to learn from them about gangs and conflict management as well as to share my experiences that relate to the topic. As a social-affairs columnist of the Phnom Penh Post, I am going to use what I have learned from the program and the experiences, combined with my ideas, in my writing. Therefore, my work will help the policy-makers and programmer improve their capability and extend their knowledge so that they can better deal with the problem emerged from among the youths. Moreover, when I have chance, I will discuss it with the youths directly in Cambodia.
VOA: Regarding the problems related to youths and their conflict in Cambodia, do you think they are deteriorating?
Soprach: Actually, the situation has improved a bit, as the government has involved itself in tackling those problems through its local policy regarding the security in the communities and many jobless youths immigrated to Thailand to look for jobs. According to my research finding on youth gang violence in 2003, the root of these problems is unemployment which lead them to involve in fighting very easy and in the rings of gangs and their activities. Once involved in these aspects, they tend to start the argument and the fights easily.
VOA: You have come to United States because you have been selected for the program initiated by the Department of States of the United States of America. How many Cambodians have been selected besides you?
Soprach: To be honest, I am the only Cambodian to be selected for this program of YCCR.
VOA: Can you tell us how to apply for it and what are the required qualifications?
Soprach: Honestly, I don't know exactly about the required qualifications for the program; I knew only I was nominated and then I saw my name on the list from US Embassy. Yet, I think I was nominated because I have much experience working with youths on a wide range of issues such as sexual abuse, youth violence, gang rape, youth development and so on. But for the process of detail selection for this program I don't know.
VOA: Thank you, Mr. Tong Soprach! I wish you best of luck, and I hope you will enjoy the rest of the field trip.
Soprach: Thank Mr Pochin!