Unofficial Translation from The Phnom Penh Post's Khmer edition
TUESDAY, 10 JUNE 2014,
TONG SOPRACH
តើ​កម្ពុជា​អាច​ទប់​ស្កាត់​អំពើ​ហិង្សា​ផ្លូវ​ភេទ​ដល់​កម្រិត​ណា?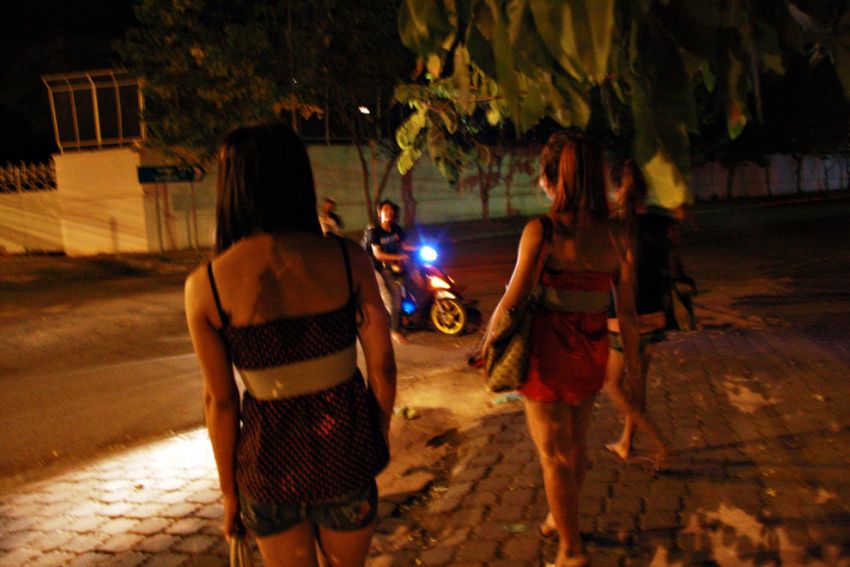 This morning in London, United Kingdom, representatives from 100 countries around the world participated in a Global Summit to End Sexual Violence in Conflict. The objectives of the meeting are to discover internationally accepted solutions and mechanisms to prevent sexual abuse taking place when war breaks out.
In Cambodia, a country whose cultures and civilization dates back thousands of years, it used to be so rare to think that sexual abuse against woman was a deviance and crime. In the past, such deviance used to be practiced by only powerful people, such as the chiefs or the rulers. For Example, Dab Chhuon aka Majol Pich (translated in English as "the Diamond Needle"), the ruler of Siam Reap province during the 1950s-1960s, was well-known as a rapist, whom women and parents who had daughters almost cried when they heard his name. Not until the era of Cambodia Civil War, particularly the Gen. Lon Nol regime, which began in 1970, had rapes become widespread in Cambodia. Despite the lack of research or document about the rape cases in this period, it was known that most of the victims were ethnic minorities.
In addition, regarding the rape cases in Khmer Rouge regime, though civil parties have complained against the KR regime at ECCC (Extraordinary Chambers in the Courts of Cambodia), the rape victims or rape witness the rap in this era remembered about them is "rape activity and raped and killed later". According to research reports of Cambodian Defenders Project (CDP, 2011), 104 KR survivors reported sexual torture and violations during the epoch of Killing Fields. Among them, 28.8 percent are the witnesses, and 6.8 were the victims of sexual violence. In 1979, the so-called Democratic Kampuchea was overthrown by the Kampuchean United Front for National Salvation and the Vietnamese army. Many politicians have interpreted this event in different ways, based on their own perspectives and theories (realism or liberalism). While some of the politicians have defined it as a neighbor's friendly intervention and liberation, the others have viewed it as the "Vietnamese Invasion of Cambodia". One question should be asked: "Did those Vietnamese soldiers engage in the sexual abuse of Cambodian women while they were ones who held power?" There are no reliable statistics that can be used to answer this question, nor has there been any research yet.
"During the 80s and 90s, there were many cases of sexual abuse in insecure regions along Cambodian-Thai border, where hostilities between the government army and the Khmer Rouge guerillas have taken place. According to my recent research on health problems in those regions, the locals told me what they know about those cases of sexual crime. There has been no detailed research on this issue. Such abuses also happened to refugees who sought shelter in camps on Cambodian-Thai Border. Some of my friends and relatives have also told me that they have witnessed the murders, tortures, and rapes committed by Thai authorities against Cambodian refugees.
Although the civil war in Cambodia ended more than 30 years ago, it casts a shadow on domestic politics and economies. This has led to the loose enforcement and drafting of laws, as well as corruption and bribery. So far, there has been no reliable statistics on rape cases, even from the police. Most of the sources are NGOs that help the victims file their complaints. ADHOC alone received 313 complaints of rape in 2012.
In some cases, offenders pay their victims to withdraw their complaints or refrain from sueing them. Sometimes, the victims force themselves not to file the complaint for the sake of their reputation. Furthermore, there have also been reports of unique rape cases, such as incest rapes (the rapes committed by someone who is close to the victims, including their family members and relatives) and gang-rape, or"bauk," which refers to one or two young males luring a sex worker to where there are several peers waiting to coerce her to have sex with all of them. This is sometimes accompanied by violence. The"Bauk" mentality extends to women and more surprisingly transgender "Kteuy or Srey Sros" as well. Most victims of group rape are sex workers while most offenders are male youths.
In accordance with the findings of research focusing on young males from wealthier families, aged between 15 and 24, 10.8 percent of the 240 men interviewed in 2009 admitted to have been involved in bauk against sex workers. For the same research done in 2014, particularly in the previous three months, the result was similar to that in the last five years, with 10.6 percent out of 258 young males (Soprach, 2009 & 2014). Because issues of sexual abuse in Cambodia tend to occur during the period of chaos or wars and even in the post conflict period, the following solutions should be implemented:
1. The reigning government has the custom of condemning and criticizing the previous rulers. This may have consequences not only on its policies, but also on the works of the scholars and researchers. The reigning rulers urge scholars or researchers to conduct the research related to the advantages of their regime and the drawbacks and criticism of the previous, overthrown regimes (for example, the Pol Pot Regime).
For instance, if the scholars want to find statistics about sexual abuses committed by Vietnamese soldier against Cambodian women during and after 1979, the current government will never allow them to do that since such an act will have negative impacts on the long-lasting Cambodia-Vietnam relationship. Additionally, those scholars, in spite of their degrees and capacity, will not receive any funding to carry out their research. On the other hand, some scholars are biased and use their knowledge to benefit the government for their own current or future position in the government.
To solve this problem, a clearly defined complication, the government should be divided clearly between politics and the research system, in order help scholars discover the facts and data of sexual violence in conflict, which can ease the enforcement of law.
2. The news about rape cases in the media lack necessary details and qualities. To make matters worse, some journalists use humorous terms in their work or even show actual photographs of the victims. Some media outlets choose to propagate lots of political news and attempt to avoid coverage of sexual abuse or to downplay them in very short articles. This will not attract law enforcers or policy makers to pay attention to this issue. Editors and reporters should be properly trained in covering gender issues, and sexual abuse and its solutions in their publications.
3. The cases of sexual violence during the Khmer Rouge regime, and the evidence that ECCC is investigating in order to add more indictments to the defendant's verdict are utterly crucial. The fair and square persecution of perpetrators will be a good warning and lesson for further generations to prevent such crimes from happening again.
4. The typical offenders of sexual abuse in the period of war were military personnel. Thus, they ought to be educated about gender equality and issues of sexual abuse against women and children. Meanwhile, Cambodian youths should be educated through moral education and religion(s). This action can help to prevent gang-rape and sexual abuse in society when young people see or experience bauk. More importantly, it will also work in periods of war or chaos, for they may one day become military personnel.
Tong Soprach is a social-affairs columnist for the Post's Khmer edition.
Comments: soprach.tong@phnompenhpost.com