Unofficial Translation from The Phnom Penh Post's Khmer edition
WEDNESDAY, 28 AUGUST 2019,
TONG SOPRACH
ជំងឺ​ទឹកនោមផ្អែម​កំពុង​វាយលុក​ ខណៈ​ភេសជ្ជៈ​ជាតិ​ស្ករ​កំពុង​ត្រូវគេ​បង្កើន​រង្វាន់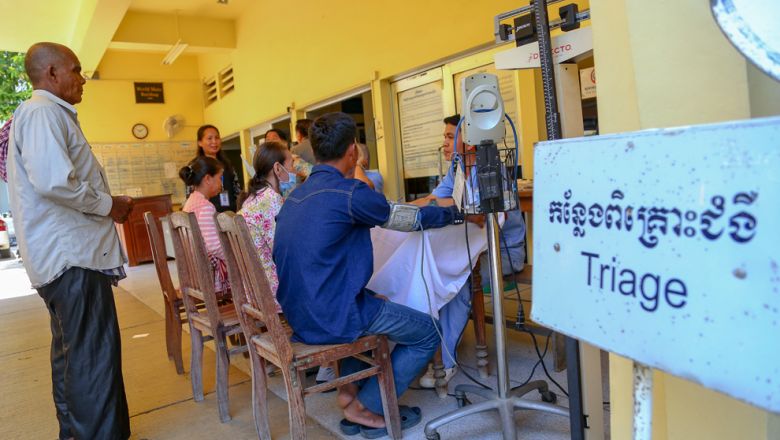 TODAY, the elderly Cambodian, aged over 40, have woken up, some complaining, some lingering pain, some abdominal pain, some joint pain, some swelling of the legs, some swelling of the face, some weakness, some anemia, and some fatigue.
When a patient visits their doctor, high blood pressure may be the only finding. But after a few blood tests, more findings may be revealed: high levels of cholesterol, fat (triglyceride), and sugar (glucose). While out of the reach of many, those who can afford it fly abroad for medical checkups and treatment for non-communicable diseases (NCDs), which include high blood pressure (hypertension), diabetes, heart disease, and cancers. Those who cannot may not be so fortunate.
NCDs should be detected and diagnosed early so that the patient can start treatment sooner rather than later. Delays in diagnosis and treatment can be fatal or disfiguring. Once diagnosed, however, the patient needs to be treated regularly for life. According to statistics released by the International Diabetes Federation on World Diabetes Day (November 14) in 2017, there were 246,000 diabetic patients across Cambodia and approximately 425 million adults (20-79 years) were living with diabetes. It is one of NCDs that the world concerned
A 2016 study of the Prevalence of NCD risk factors in Cambodia in 2016 by the University of Health Sciences (UHS) and the Ministry of Health (MOH) on 2,870 people aged 18 to 69 found that nearly 10% percent had raised blood sugar or were currently on medication for diabetes. Overall, greater than 90 percent of adults had at least one risk factor (smoking, alcohol, high-sugar/salt dietary intake, and physical inactivity). According to the World Health Organization (WHO), in 2016, there were 760 deaths due to diabetes in those between 30 and 69 years of age, and 661 in those 70 years or older.
Diabetes can affect anyone, is not infectious, and initially begins with few symptoms. Eventually, the high level of sugar in the blood can lead to complications such as high blood pressure, heart disease, eye disease, and kidney disease, as well as nerve problems and poor circulation, sometimes requiring amputation of limbs. It cannot be cured, but only controlled through lifelong use of medicines. As a consequence, the poor can be forced to sell their property or deplete their life savings.
The risk of diabetes is highest in those who are overweight or obese, physically-inactive, and with unhealthy eating habits such as high consumption of sugary foods and drinks, which are heavily promoted by the food industry in the form of prize give away. Participants are encouraged to consume more and more in search of the winning can or bottle. For most, the consequences are sobering: instead of receiving prizes such as smartphones, TVs, motorcycles, or cars, they end up with diabetes.
Doctors advise patients to reduce their intake of sugar and fat, but it is easy for patients to ignore or discard such advice. Some may even feel anger, given their enjoyment of tasty but unhealthy foods. Meanwhile, advertising for sugary foods and drinks circulate widely on social media as well as traditional channels such as radio and TV. There are few barriers to smoking and consumption of alcohol, even on a workday.
There is no prohibition on drinking alcohol and smoking in community, regardless of holidays and weekends. The advertising of sugar foods and sugary drinks has also been circulating on social media, both traditional and modern media; especially, with the big rewards that attracted the villagers trying to drink high sweetie drinks a few times a day for search for winning the prize. Get a reward.
In contrast, there is barely any health education broadcasted in the media and on TV on non-communicable diseases are very few and community outreach activity is also minimal. But last month The Ministry of Education, Youth and Sport (MOEYS) only took a stand by banning six unhealthy snacks and high-sugar soft-drinks in schools.
The Ministry of Health (MOH) has just launched a campaign to combat NCDs, lagging far behind efforts to address communicable diseases such as HIV/AIDS, tuberculosis, and malaria, which have received many more resources historically. A new updated guideline for community outreach including NCD intervention will be approved soon.
Nonetheless, this is only the beginning in the long battle against NCDs. Health services to treat NCDs are not yet widespread, and treatment protocols need to be updated and disseminated. Health centers do not have any health promotion materials regarding NCDs, and lack the capacity to diagnose and treat them. For instance, treatment for diabetes is mostly provided in district referral hospitals.
NCDs such as hypertension and diabetes will only rise in the years to come. The government should act with more urgency and provide additional funds for outreach activities so that health center staff and village health support groups (VHSGs) can provide health education and NCD screening to remote villages, and refer high-risk patients to health facilities for follow-up.
NCDs must be embedded into primary care services as part of Cambodia's journey to achieve universal health coverage (UHC). Perhaps most important and difficult of all, marketing of unhealthy foods, drinks, and lifestyles should be restricted; especially, prize award promotion. Lesson learnt from some countries banned high sugary soft-drinks to import to their nations.
However, The ASEAN Health Ministers' Meeting (AHMM), hosted by Cambodia last month in Siem Reap province, also recommended for the ASEAN members to take concrete action, in fighting against NCDs by enhancing regional capacity through integrated approaches to promote reformulation and production of healthier food and beverages with promotion of healthy lifestyle for behaviour change in the region.
Tong Soprach is a social affairs columnist for The Post's Khmer edition. Comments: soprach.tong@phnompenhpost.com