Unofficial Translation from The Phnom Penh Post's Khmer edition
WEDNESDAY, 06 MAY 2015,
TONG SOPRACH
វគ្គទី៦: Tom ធ្វើឫកងឿកចង់បែកចិត្តពី Jerry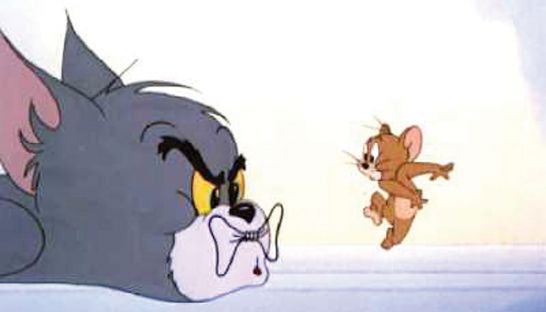 This local context "*":
*Tom refers to Hun Sen, Prime Minister, Cambodian People's Party (CPP).
*Jerry refers to Sam Rainsy, house minority leader at the National Assembly and Cambodia National Rescue Party (CNRP) President.
* Jerry's Partner refers to Kem Sokha, First Vice-president at the National Assembly and CNRP Vice-president.
IT may sound ridiculous to compare the contemporary Cambodian political development to the cartoon Tom and Jerry, but fictional characters overlap neatly with real ones. The period before the year's 2013 general election resembles the early episodes of the Tom and Jerry Show, in which Jerry often hid from Tom in his hole while Tom waited at the entrance to bully his opponent. Series 2 is the period after the election, when there was political deadlock, characterized by self-interest rather than selflessness. Series 3 is the stage in which Tom and Jerry started to initiate a pact visa phone. In Series 4, Tom and Jerry settled their differences and shook hands, looking forward to a "fair and square" competition in 2018. By Series 5, however, we see Tom making a fool out of Jerry due to the controversy and ambiguity in the selection of the ninth member of the National Election Committee.
Now, here we are in Series 6, the wily Tom has turned his back to break from Jerry as a "culture of dialogue" between the two has just begun to play important role in politics. Why does Tom do that? What do Tom and Jerry plan to do next? Will dialogue remain constructive? Are we really not able to distinguish between "criticizing" and "insulting"? As the matter of fact, there are many things that we need to learn to avoid the misunderstanding and misinterpretation of "dialogue."
What will Jerry do as opposition party if Tom bans him from criticism? Will it have any repercussion on the freedom of speech in Cambodia?
The Cambodian People's Party (CPP) and the Cambodian National Rescue Party (CNRP) have implicitly expressed the intention to finish with one another before the dialogue between the two main political parties has the chance to bear fruit. Like Tom and Jerry, the two parties know each other's stances, and wait for the chance to trap one another. The use of dialogue by the CPP is a strategy that they have long used to destroy the internal structure of their adversaries.
The victims of this strategy included the Khmer Rouge in the years after the first national election in 1993, and the Buddhist Liberal Democratic Party (BLDP) or Son Sann Party was also separated into part within Mr Eang Mouly's group and Mr. Kem Sokha's group, which experienced their first significant tenure in politics by taking Mr Eang Mouly's group into CPP for second election in 1998. Undoubtedly, Mr. Kem Sokha has always been looking for the chance for payback until now. Another noteworthy victim is FUNCINPEC (Front uni national pour un Cambodge indépendant, neutre, pacifique, et coopératif, which translates to "National United Front for an Independent, Neutral, Peaceful, and Cooperative Cambodia"), led by Prince Norodom Ranariddh, which, though it still exist, failed to gain even a single seat in the Parliament from the previous election.
The CPP has been using this through both cold and hot methods. Whereas the CNRP tends to the gentle method, preferring to use dialogue in order to release their parliamentarians and activist members from jail. (Obviously, Jerry knows that Tom's favorite trap is the court, due to his experience when he drew out a few poles along Cambodian-Vietnamese border. The hot method applied led Jerry into self-exile away the country for four years.)
Being aware of the past experiences of the use of dialogue by Tom, the partner of Jerry could be concerned about the possibility of the breakdown of internal system and structure, and thus could be attempting to disturb the dialogue between Tom and Jerry and hinder the positive development of their relationship. When Jerry's partner says anything that irritates Tom, it makes Tom angry. He asks Jerry to discipline his "subject", yet Jerry, though the head of the clan, has no full control over his partner. 'Could our dialogue also be finished or will it keep going?' Tom asks Jerry. In fact, Jerry is a party leader but Jerry doesn't have the right to manage his partner; so, Jerry's partner can play anything.
On the other hand, it maybe it is all a game created by Jerry and his partner. Perhaps they plan for Jerry to get close to Tom, while Jerry's partner attacks Tom from behind. Jerry and his partner have long been aware of Tom's strategy and maybe they use it against him like a trap. As Jerry's partner criticizes and insults Tom, he grows angrier and expresses his anger publicly — leading to a weakening.
Despite the criticisms over the uses of dialogues between Tom and Jerry, there have been emergences of several positive features from their relationship including meeting sincerely in Siem Reap province and in Malaysia. Not only the CNRP activists but also the activists from Boeung Kok lake were released from jail, thanks to the fruits of this dialogue. Moreover, at a fundamental level, confrontation between the grassroots activists from the two parties have been minimized and business owners feel more secure.
But we have also seen some negative features such deceit, tricks, and ambiguity because Tom and Jerry didn't have any plan, any clear joint decisions and have time limitations. There is also fragility behind the dialogue as sometimes Tom loses his temper too easily and unintentionally and unconsciously reveals secrets of talks publicly.
The dialogue between Tom and Jerry hardly matches the ideal framework of dialogue, which can help to achieve national consolidation and solidarity. Therefore the two parties leaders should focus on listening to each other deeply and try to understand clearly on cause-and-effect. If unclear, they should ask any questions immediately and speak openly about their true problems with each other in other to bring peace into the community and whole society. (We do not mean the absence of war, we mean real peace.)
In fact, this dialogue culture should be continued. If the use of dialogue cannot improve on its own, the two parties could start search for mediation in order to connect Tom and Jerry to respect and democratic development in Cambodia. But while many people are good at advocacy, there are very few professional mediators.
(One of the few is Dr. Pung Chhiv Ghech who used to try to play a role as mediator between King Sihanouk (Prince Sihanouk at that time) and Prime Minister Hun Sen, by inviting the two to have a dinner at her house in Paris before the Paris Peace Accords on 23 October 1991. In this case, she introduced the two important political figures to each other and it was a good start to have this informal meeting.)
Regardless of which method they choose, the two leaders of the political parties should emulate the experience of other countries and governments such as Aceh province of Indonesia that have had the fruitful results from dialogue and mediation, rather than playing the game of Tom and Jerry.
Tong Soprach is a social-affairs columnist for the Post's Khmer edition.
Comments: soprach.tong@phnompenhpost.com
LINK TO: Hun Sen and Sam Rainsy put out list of insults to avoid