Future leaders of Cambodia give their perspectives on politics
SATURDAY, FEBRUARY 8, 2014
By Rin Sokreth and Koeut Chantrea
DMC Dpartment of Media and Communication
Some of Cambodian youths feel pessimistic about what is going on with Cambodia's democratic process. Yet, it is the young generation of voters who will shape the future of democratic development in the country. According to research conducted by the UN's Development Program and the BBC World Service, youths between 15 and 24 still have a limited knowledge of democratic institutions and electoral participation. Understanding their role in politics is crucial for the next generation of Cambodians to make their voice heard and demand that the government serves their interests. Five prominent Cambodian youth talk about how they see democracy developing in the coming years.
Meach Sithyka
Army Officer, West Point graduate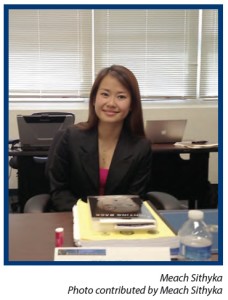 Democracy development and politics are two different things. I know it is hard in Cambodia to separate it sometimes, but it's possible to do it. I think we have some unique issues that most democracy have to change. I do not compare Cambodia with other countries because we are unique.
I think the older generation has the power, but we are the future, and it is important if everybody understands how to work together and to want to work together. Cambodia needs people who are passionate about the country and passionate about Khmers in general and want to work together. You have to be realistic about your expectations for the country doing very good right now. When everybody criticizes our democratic process, I think they have to understand our unique issue and work along with it. So, I'm quite happy with what is going on in Cambodia.
I understand there's a lot of bad news sometimes—very horrible news that you don't want to see. But if you come to your own overall conclusion, there are a lot of things to be positive about. Youths have to study hard and make it happen. Don't complain about things. That's what I would say to next generation. You need to take action. You need to go out there and help. You cannot just say it is hard and never do it.
Chak Sopheap
Program director at Cambodian Center for Human Rights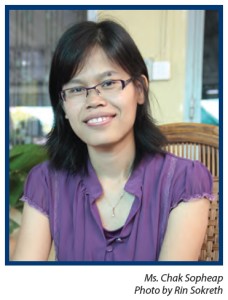 It is very important that the government acknowledges that the fundamental freedom of the citizens is absolutely necessary to develop the country. An example is the freedom to access information. Without proper and independent information, people cannot make informed decisions.
In order to urge youth to be more involved in democratic development, firstly, we have to guarantee the space for youths to communicate, to meet, and to discuss. Secondly, civil society, and especially the government, needs to work to improve the human rights situation, because when the human rights situation is restricted—when one activist gets killed—it sends a very strong message to the public that they have to be silent.
Moreover, youths have to be encourage themselves, not just receive encouragement from the government or from outsiders, because this is a generation for change. It is very crucial that the youths have to understand that they can affect the change for later generations or for themselves. If they just wait to be urged, then they become passive.
Hun Many
Parliamentarian, President of Union of Youth Federations of Cambodia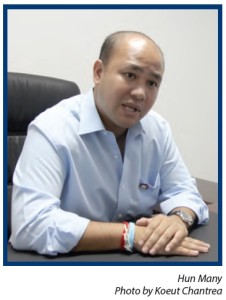 Youth's participation in democracy is very important since youths are the main pillars of the country's development. However, we should consider whether the youth's participation is focusing on the development of the country or the development of democracy? Should we sit and wait to see whether the democracy in our country is developed or should we try to develop our country along with the development of democracy?
As a youth and as a representative of Union Federal Youth of Cambodia, I am working on social work and social work participation. We are trying to encourage youth to get involved in our activities through various kinds of volunteer jobs, some of which we have done already, such as blood donation, cleaning cities and Angkor Sangkran, which has held [in 2013]. Social work also gives youth the chance to understand what is going on in our society—to understand the democratic process—and they will be able to be involved in political affairs in the future.
I think that the government is now providing a lot of chances to Cambodian youths to be involved in social work. In short, youth's participation is a main part of our country's development, including democratic development.
Soung Sophorn
Human Right Activist, CNRP youth leader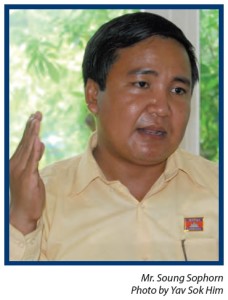 There have been some positive changes in our country's democratic process. However, the change is not from the older generation but it is from the younger generation, because now Cambodian youths like to use their freedom of expression and respect each other's rights. For this reason, we hope that our country's democratic development will be better in the near future.
What that can change our country's democratic process for the better is to put the younger generation to positions in all level of the government, because most of the older generation leaders are tainted by a communist mindset because they have experience in a number of communist regime, such as Khmer Rouge regime for example.
One more thing is about their educational level. Most of them are not well-educated people. They did not enroll to receive any university degree or anything, so they don't have many ideas to develop the country. Hope rests on the youth, who can rescue us from these problems. This does not mean that we ignore our older leaders, but they can become our advisors or they can stay in positions that are not so important in the government.
Finally, I would like to suggest that all Cambodian youth become involved in political activities. Cambodia can become a real democratic country as long as Cambodian youths come together to try to help or improve the country.
Tong Soprach
Social affairs columnist for the Phnom Penh Post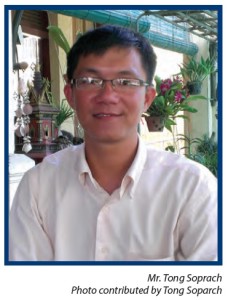 Democratic development in Cambodia is now improving very slowly. Therefore, we have to take a look at other countries which have stronger democracies than our country and take some good points from them as examples for our country. In Cambodia, there is a big number of youth and if the youths have a chance to be involved in politics, it means that they have power in the government.
Therefore, they will help other youths become involved in politics and improve democratization in Cambodia. To me, as one of youths, I have been writing column about social affair for Phnom Penh Post in order to improve democracy in Cambodia. Most of the columns are about social analysis and critical issues. For example, I have written about Boeng Kak land conflict, about the education system in Cambodia compared to Asian countries and the differences between democracy in Cambodia compared to the United States.
So, to improve democratic development in the country, first, youths have to be involved in politics. Politics is about our responsibility to think about society, to be involved in it, and to complain about it. Second, youths themselves have to strengthen their own ability in order to be a smarter thinker. They can't just have somebody tell to do something and they just go ahead without critically thinking about it.