Unofficial Translation from The Phnom Penh Post's Khmer edition
TUESDAY, 03 MAY 2016,
TONG SOPRACH
រដ្ឋ​គួរ​បង្កើត​មជ្ឈមណ្ឌល​ស្ដារ​នីតិសម្បាទា​បន្ថែម​សម្រាប់​ជួយ​ជន​រងគ្រោះការជួញដូរ និងទាសករសម័យទំនើប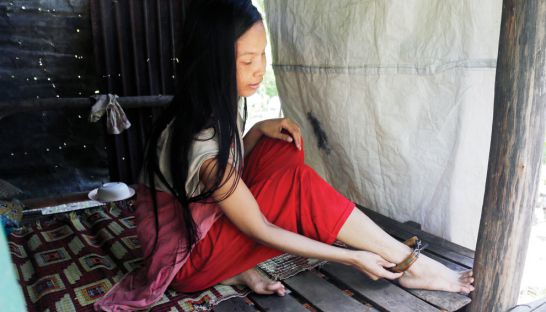 Poverty, eviction, landlessness, climate change, and the desire for modernization have significantly pushed people to move from rural-to-urban and cross-border migration for employment. This, all in spite of the existing awareness on the upcoming challenges.
Human trafficking has pulled many people into "modern slavery", leading to global concerns as about 35.8 million have become slaves in the world, according to Global Slavery Index, 2014. This index ranked Cambodia number 14 out of 167 countries in term of modern slavery. Why doesn't the government have network for assisting the victims of trafficking and slavery?
The Center for Alliance of Labor and Human Rights (CENTRAL) organization who work with migrant workers estimated that around 2 million Cambodian people work in other countries, both legally and illegally. Thailand alone has approximately 700,000 Cambodian workers while many other have been deceived by tricksters. Their working conditions are mainly harsh, with pressure from Thai police and exploitation by their employers. Meanwhile, many have been become beggars.
"I had been trafficked into begging on the streets in Bangkok for several years when I was 8 years old…I was deported to Poi Pet border where I stayed in a government's center for few days only and then I was sent home…" A Cambodian disable young man described at the Trust Fund Asia Conference in Singapore on 28 April 2016. 
A Cambodian disable young man, formerly victimized by inhumane exploitation in his childhood, said in a conference organized by Trust Fund Asia in Singapore on 28 April that he had been tricked into begging on the streets in Thailand for years before he was arrested by Thai police and deported to Poi Pet entrance (Cambodian and Thai border), where he stayed in a government's center. After a few days, he got home, but it was not long before he returned to begging in "Amazing Thailand". In his last repatriation, IOM brought him to rehabilitation center of IOM (International Organization for Migration) in Battambang province. He was later transfer to Hagar organization, his current work place.
In July 2015, Thai authorities sent thousands of illegal Cambodian migrant workers back to the border, as if they were trash. Cambodian authorities drove them back to their home instead of putting them in any transitional shelter, where they could acquire mental and physical education as well as the vocational training to improve their career. Not more than a few months after did they return back to Thailand.
Besides the one in Poi Pet border, another state-run rehabilitation center is Prey Speu Center. A center which has been heavily criticized by human rights organizations, saying it seems to be a detention center rather than a standard rehabilitation center. It is where the authorities place beggars and even some land dispute protesters after they [authority] made a clean-up in Phnom Penh.
Cambodia is not the only nation that is suffering from the lack of rehabilitation centers. "The rescued victims have to be placed in the rehabilitation center before they are sent back into their community", said Mimi Vu, the director of PLF, the organization aimed to work on anti-human trafficking; especially Vietnamese women are trafficked to China.
"However, there are only three state-run centers, operating in cooperation with NGOs."  There are two reasons why the government does not create more rehabilitation center amid the shortage. First, the government does not take political advantage from the centers. Second, creating more rehabilitation centers will reveal one of its weaknesses: the kingdom's large number of emigrant workers. In some examples, such as the case of the Cambodian women who went to work in Malaysia, the victims were deported back to the Phnom Penh International Airport alone, they were perverted and they don't know where their house is. Whereas some trafficked women to China had decided not to go anywhere anymore.
Last week, The Central organization rescued a young woman who had been tricked into work in Malaysia. After that she was imprisoned for 6 months as her employers seized her passport.
"The 20-year-old victim was sent to meet and stay with her family in the Tbong Khmom Province first, and then we would follow-up with her", said Dy Hehoya, an Labor Officer of Central, "But she has lost some of her memories, and we are considering whether we should place her in a partner NGO shelter".
Due to the lack of public supporting networks and rehabilitation centers, the victims of trafficking and slavery have to go to NGO shelters, yet those shelters' operations live on the budget funded by international donations. No budget, no shelter either.
The government, therefore, should increase the budget for transitional and rehabilitation centers to ensure the standards in their self-operations. Meanwhile, they need to instruct people in communities to avoid being deceived by greedy brokers, who promise them high-paid employment or marry, as well as to prevent the risk of trafficking and slavery. Cambodian immigrants offer labor force to the other countries, meanwhile Cambodia is facing shortage of labor, but the immigrants to have it labor force to the other countries.
Tong Soprach is a social-affairs columnist for the Post's Khmer edition.
 Comments: soprach.tong@phnompenhpost.com