Unofficial Translation from The Phnom Penh Post's Khmer edition
TUESDAY, 30 OCTOBER 2018,
TONG SOPRACH
កុមារី ​ប្រឈមមុខ​ខ្ពស់​នឹង​ការចាប់​រំលោភ​ ពេល​ឪពុកម្ដាយ​ធ្វើការ​ឆ្ងាយ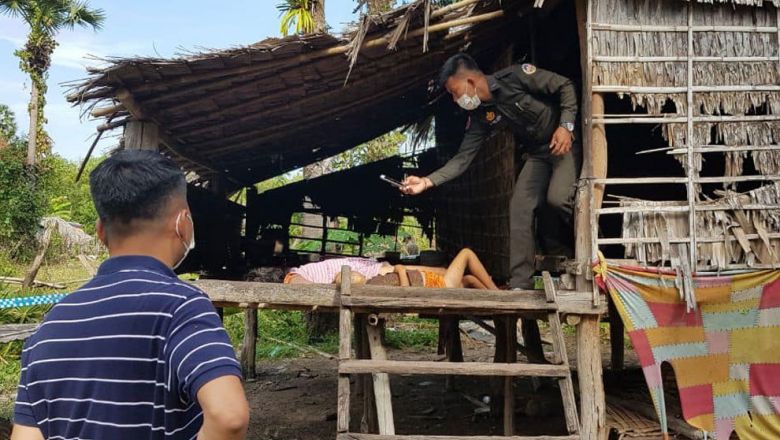 Internet usage has increased rapidly in Cambodia over recent years, especially among youths, with mobile data packages becoming surprisingly affordable: you can pay just $1 and exchange for a $100 worth of data. Mobile coverage is also expanding across the Kingdom, granting more and more users access to the cheap internet, providing various kinds of news and information via web services such as YouTube and Facebook.
The positive impact of this is to help facilitate the working process and provide sources for research and news. But on the negative side, the internet can have a detrimental influence on society, especially youths, through spreading graphic depictions of violence and pornography.
But what if the power of the digital revolution could be harnessed to assist in the intervention and prevention of rape and violence against women and girls?
A 16-day prevention and education campaign is organised annually by the Ministry of Women Affairs and other civil society organisations working on gender and human rights from 25 November to 10 December. Aimed at ending violence against women and children, the campaign is only run in Phnom Penh and major provincial towns, and boils down to little more than wearing white ribbons and performing the traditional Madison dance.
"In addition, the National Gender Budget should be increased for commune CWCC and district WCCC because these committees are working closely with communities"
While the legal intervention activity would focus on searching to arrest rather than pre-intervention, as the process of an arrest of a perpetrator of a violent crime in Cambodia involves the suspect reenacting the crime on location in front of arresting police officers. As example, a young man raped and killed two sibling girls in a house located in Boribo district, Kampong Chhnang province last week. The case received heavy criticism online for being insensitive to the victims' family as the suspect was a neighbour but was forced to imitate the rapes and murders at the same place.
Many underprivileged families in Cambodia see the parents forced to work long hours away from home, such as in garment factories. Some have to migrate to work abroad. They leave their children to go to school in their home village, usually under the guardianship of relatives such as grandparents, aunts or uncles. An absence of parents at home can makes children feel a lack of warmth and security, leading to some struggling to obtain a good education and skipping school.
Without proper guardians around to keep a watchful eye on children, bad things can happen. Some youths have access to pornography online, which can elevate their desires to an uncontrollable level. Meanwhile, girls can also be left very vulnerable to attack.
This was exactly the case in Kampong Chhnang. The mother was away working at a garment factory in Phnom Penh while the father migrated to Thailand to do manual labour. Both daughters were entrusted with the uncle, who failed do a competent job of looking after them.
The Safe Village-Commune policy has not been properly enforced yet and there are some loopholes such as situation management and good relations between local authorities and community members.
In addition, the dissemination of information on violence against women and children conducted by the commune's Committee for Women and Children (CCWC) and the district's Women and Children's Consultative Committee (WCCC) is not reaching everyone. Most participants in gender-based violence campaigns are women, while men and youths usually avoid such events.
Therefore, I suggest both the Ministry of Women Affairs and sub-national administration, especially at district and commune levels, and NGO partners working with women and children should change to embrace some digital strategies in order to help prevent violence and rape against women and children through a wider spread of information. Digital strategies are currently not prioritised in the National Action Plan to Prevent Violence Against Women, 2014-2018.
In addition, the National Gender Budget should be increased for commune CWCC and district WCCC because these committees are working closely with communities and it will be easy for them to introduce new strategies, such as educational messages via Facebook, YouTube and other social media services.
Furthermore, we should strive to encourage better relations between families and local authorities. For parents working away from home, they should alert and inform the local authorities. Community groups should also be established to spread information and guidance to men and youths, and prevent them from committing violent crimes.
Tong Soprach is a social-affairs columnist for The Post's Khmer edition.
Comments: soprach.tong@phnompenhpost.com
NOTE: Phon Dyna, Primary Translator for this column