Unofficial Translation from The Phnom Penh Post's Khmer edition
TUESDAY, 13 DECEMBER 2016,
TONG SOPRACH
ពុករលួយលើការពិនិត្យទំនិញ អាចគ្រោះថ្នាក់ធ្ងន់ពីសារធាតុ នុយក្លេអ៊ែរ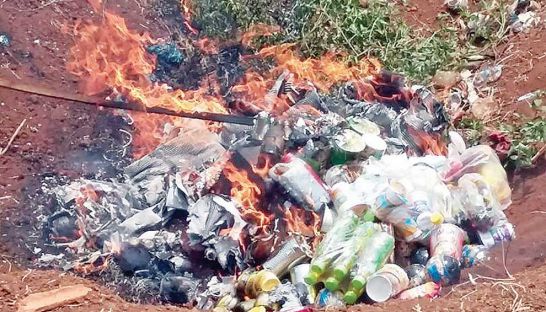 Cambodia is sometimes seen as a dump site for foreign waste due to the power of corruption and greed, which have led to imports of dangerous chemicals without any heed of the risks to people's health.
For example, on Nov 30, 1998, 30,000 tons of toxic waste were imported from Taiwan by Taiwanese petrochemical giant Formosa Plastics. The shipment of toxic waste was dumped in Sihanoukville province. The waste, which contains high levels of mercury, was illegally dumped near the popular coastal resort of Sihanoukville.
Senior government officials have alleged that up to three million dollars in bribes may have been paid to corrupt officials to allow the waste into Cambodia.
More than 100 government officials were suspended from their posts following the incident, but only three have been charged with endangering human life, property and the environment. (BBC news)
This chemical waste caused skin diseases among several local people when they collected the plastic back for using hammock while the other the chemical used to make the road, both of which could provoke radiation. The Cambodian government did later negotiate with Taiwanese authorities, who arranged to bring the waste back to Taiwan. It ended up with only the sack of a few custom officials and authorities in Shihanoukville port (Local news).
On the other hands, Cambodia is also an easy destination for the import of cheap goods, expired products or spoiled food such as chicken wings, chicken knees, and chicken's legs, originally treated as "rubbish" in Thailand yet turned into food for Cambodians.
Imported drinks, meanwhile, such as wine, beer, and chemical soft drinks, have damaged the health of the kingdom's people amid their already poor living conditions.
At least 15 villagers, both male and female, died after drinking rum and another 80 were hospitalized in Kampong Chhnang Province, which the doctors at the provincial health center found containing high level methanol substance. This original rum is also imported from neighboring countries (local news).
While the consequences are suffered by the Kingdom's health sector, its beneficiaries are the custom officials, Camcontrol [General Department of Commerce Ministry] officials, and the economic police who are positioned along the border, at ports and airports.
According to USAID finding report on Corruption in Cambodia in 2009, Cambodia loses national budget some USD 550 million due to corruption per year.
Some weak prevention systems at Cambodia's borders increase risks of proliferation from liquid, solid, and gas wastes for Cambodia and nearby countries. It could lead to the emergence of nuclear weapons, chemical weapons, and biological weapons and proliferation even though Cambodia is a signatory of Non-proliferation Nuclear Treaty (NPT), Chemical Weapon Convention (CWC), Biological Weapon Convention in 1993. Also, article 54 of the Constitution of the Kingdom of Cambodia says that production, use and stockpiling of nuclear, chemical and biological weapons are absolutely prohibited.
Moreover, Prime Minister Hun Sen previously said "If we have a quick look at the chemical issue it seems to be far away, if we look deeply into it, it seems to be close to our nose" (The chronology of laws involved National Authority for P-CNBRW, 2015).
Compared to Myanmar, in terms of the laws and regulations over formulation and the implementation of the prevention of non-proliferation, Cambodia is likely going at the same pace with former junta in responding to international conventions, supported by US/EU aid and experts. Yet Cambodia came up short regarding the regulation formulation on using chemical substances, especially those containing nuclear, radiation, and biological elements, in order to positively use them in health, agricultural, and energy sectors. Additional Protocol (AP), Modified Small Quantitative Protocol (SQP), and UNSCR 1540 Standard are examples.
However, Myanmar stands ahead of Cambodia with respect to human resources, as most of those working on these issues are college professors and externally trained experts, who specialize in nuclear technology, and now they have strong borders and inspections over such substances.
In Cambodia, only the Institute of Technology of Cambodia and Royal University of Phnom Penh have their own small laboratories. Chemical substances are also tested in laboratories at some relevant ministries but capacity is lacking.
Cambodia and Myanmar pay the same level of attention to bilateral, ASEAN, ASEAN+3 and international summits on nonproliferation; they are both especially concerned about nuclear/missile issues on the Korean Peninsula that could cause mass destruction and on terrorism, which could endanger stability in the region.
In general, Cambodian people think if we talk about nuclear they refer to nuclear weapon refers only to the Atomic Bombs, dropped by the US on Hiroshima and Nagasaki, killing tens of thousands of people in 1945 during WWII, and leaving its devastating for the many years ahead.
The use of Uranium to produced nuclear weapons is banned by almost the whole world, yet it's still allowed to be used in a positive way in producing energy. In Fukushima, for example, there is a nuclear power plant to produce electricity.
This facility, nonetheless, was proved possibly disastrous after it was hit by an earthquake/Tsunami in 2011.
Cambodians being informed about nonproliferation is limited amid the shortage of dissemination and documents, both paper-based and online, which focus on Cambodia. The gap of import controls due to limited capacity and corruption today has an impact onf the chemical substance control. Import and export companies are largely free to use any chemical substance as they see fit after the government issues licenses for the companies.
Cambodia should heed the advice to Myanmar at the latest Pacific Forum meeting in  Naypidaw: pay more attention to enforcing laws and regulations to control all chemical substances through strengthening strategic trade controls at all borders by better screening. Also, the private sector has to participate to regulate themselves weather their goods are on the list permitted by the state.
Moreover Cambodia needs to respond more to other regulations/guidelines through international standards including transparency measures and keep joining in national, regional and international agreement meetings to stay updated on global trends on nonproliferation to build peace. Cambodia needs to eliminate any corruption at the borders and to disseminate the nonproliferation information to the public to take part in prevention as well.
 Tong Soprach is a weekly social-affairs columnist for the Phnom Penh Post's Khmer edition
E-mail: soprach.tong@phnompenhpost.com