Unofficial Translation from The Phnom Penh Post's Khmer edition
TUESDAY, 16 October 2018,
TONG SOPRACH
កម្ពុជា​ និង​សមាជិក​អាស៊ាន​ខ្លះ ​នៅ​រារែក​នឹង​ការចូលរួម​ក្នុង​ Indo-Pacific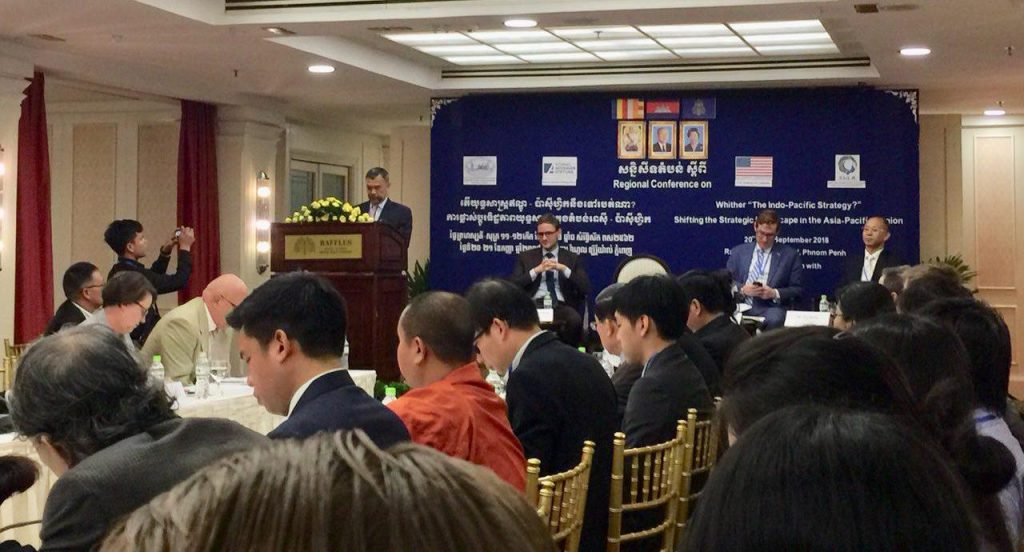 In the world today, there is a power competition between East – China and Russia; and West – European Unions, the United States, Japan and Australia. In the case of major international development agencies, such as the World Bank, the president is seen mostly from Americans or US influential person.  Whereas The International Monetary Fund (IMF) also has a trend of European leader and Japan is also noted to have a significant impact on the Asian Development Bank (ADB).
 So that China is less influential, they also try to gather some Asian countries and other nations around the globe to establish an institution which looks like the World Bank for Asia since 2016, its name is the Asian Infrastructure Investment Bank (AIIB), based in Beijing, China with 68 memberships states and 19 other prospective members based on its AIIB website. ASEAN is facing the biggest competition between the United States and China that influences to politic, economic, trade and security issues in the Asia-Pacific region.
Even at the ASEAN meetings, they [major powers] also try to evolve in meeting of ASEAN +3; China, Japan, South Korea and ASEAN +6; adding India, Australia and New Zealand, and also special meetings between ASEAN and the US. Recently, there have been separate strategies for specific meetings to attract the power, such as China's initiative to establish Lancang-Mekong Cooperation (LMC) with China and five other riparian states – Myanmar, Thailand, Laos, Cambodia and Vietnam.
The first summit started in March 2016 in Laos, aiming to solve political problems, security issues, economic and trade development, and sustainable social-cultural change between people and the people in Mekong region.
In addition, China does not speak much, but they struggle to influence their power in Asia-Pacific, East Asia until Africa through its Belt and Road Initiative (BRI) to mainstream and solidarity in some ASEAN countries and there could be geographical political security threats to the Indian Ocean as last year Sri Lanka government has handed over Hambantota port to China for 99-year lease, while Sri Lanka has no money to repay China's debt.
When China places Sri Lanka's port facilities, China's BRI can be improved through a geographical location, which is easily accessible to shipping in-and-out without control by Sri Lanka's authority.
The entering India's started strategy since 2011, Indo-Pacific now has been moved further to strengthen and develop to the initiative "Free and Open Indo-Pacific (FOIP) by four powers are India, Japan, Australia and the United States to resist the China's BRI expansion in China Sea and Indian Ocean.
Today, among the four heads of states, US President Donald Trump and Prime Minister Shinzo Abe are struggling to lobby the Asia-Pacific leaders by country-to-country and inclusive with ASEAN members to strengthen their FOIP strategy through the frequent Foreign Ministerial Meetings, and to take advantage of the ASEAN meetings.
The four major powers that only the US is classified as major power, but the other countries are middle power, have joined together to formulate strategies to resist the threat or exclusive control by China and avoid one country to dominate the region and to maintain political security, trade and stronger relations.
Even Cambodia was engaged by Japanese Prime Minister Shinzo Abe through celebrating the birthday cake Abe sang a birthday wish to Prime Minister Hun Sen last year in Tokyo. (Kyodo, Aug 8, 2017). Abe's action is to enable Cambodia to support the Free and Open Indo-Pacific initiative.
Also, a regional conference among diplomats, researchers, international relations experts and senior journalists (Think Tanks) was frequently discussed on Indo-Pacific forum and Indo-Pacific Strategies and Challenge.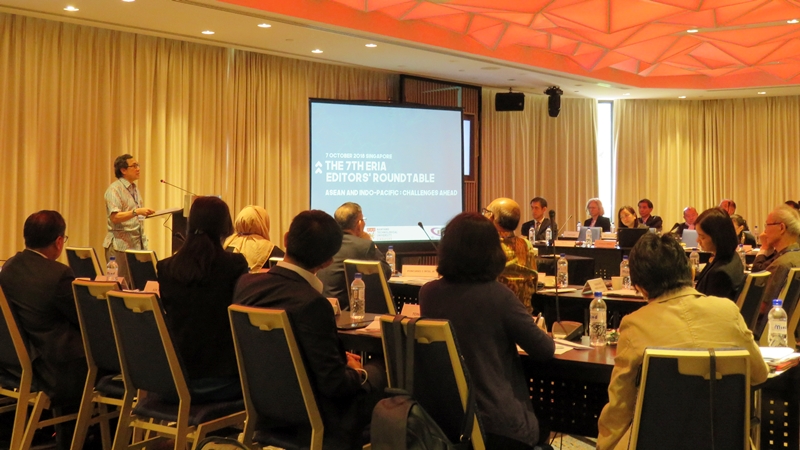 Recently, I attended two regional conferences in Phnom Penh on"Whither the Indo-Pacific Strategy? The Insecure Security Landscape in the Asia-Pacific Region" organized by the Cambodian Institute for Cooperation and Peace (CICP) and another one in Singapore on The 7th ERIA Editor's Round Table: "ASEAN and Indo-Pacific: Challenges Ahead" organized by ERIA/RSIS/NTU. The meetings raised concerns that could affect the security, political and economic issues in the region.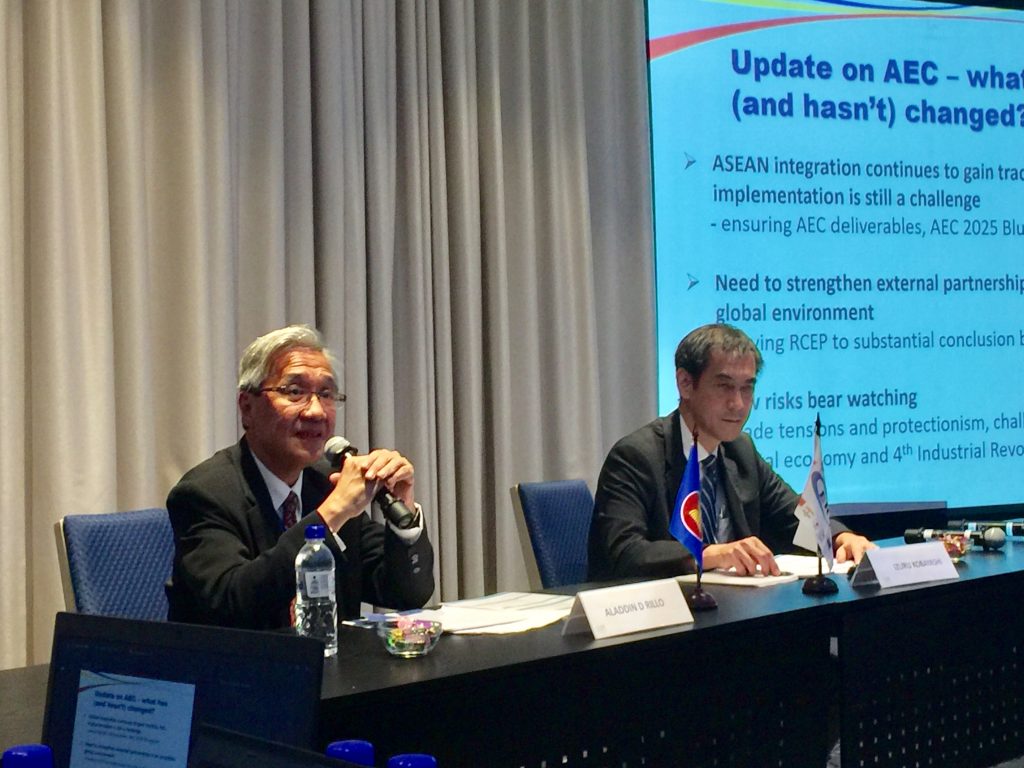 Dr Aladdin D. Rillo, Deputy Secretary-General ASEAN Secretariat, shared on AEC progress to the meeting in Singapore                      on 7 October 2018. Photo: Tong Soprach
Due to Indo-Pacific does not yet have a clear structure and strategy that some ASEAN members, including Cambodia, Laos, Myanmar, Malaysia, Thailand, Vietnam and the Philippines are not yet clear whether to engage Indo-Pacific Strategy. Because most of these ASEAN countries are seen to be influenced by China, especially Cambodia has a very close relationship with China.
Such as the failure of issuing the Joint Communique on the South China Sea dispute at the 2012 ASEAN Summit in Phnom Penh. In the opposite, these countries had controversy with China and they mocked Cambodia due to the absence of the statement; So, now Vietnam, the Philippines, and Malaysia countries turns to have a good business and relationship with China, even though China expanded its military base over disputed islands.
On the other hand, Cambodia's recent national election result which organized by National Election Committee has been fully supported by China. This means that the ruling party continues to lead the country.
According to the International Monetary Fund (IMF), the 2017 report on Cambodia's debt to China to build infrastructure such as road, bridge and hydropower dams which is consistent with China's BRI. The amount of Chinese debt only was about 70 percent of the debt total amount 6.8 billion US dollar.
So that, the recent regional conference raised the issue of the Indo-Pacific strategic plan to reduce China's power, the FOIP strategy does not want any country dominate the Asia-Pacific region. Whereas some ASEAN members which have received tangible benefits from China are hesitating to embroil in the Indo-Pacific strategy. They are at risk between China's BRI and Indo-Pacific strategy counter. If tension strikes power in the Asia Pacific region, there maybe possible for falling into the Cold War.
However, both recent regional consultations have raised the meaning of the two key words used in the Indo-Pacific strategy "Free" and "Open" –  "Free" means freedom from coercion by other states and freer people, and "Open" means open commons, open logistics, open investment, open trade. Moreover, the dialogues in the meeting suggested the FOIP specific strategy, clear mechanism and the process of enforcing the strategy.
Concerning to ASEAN members, they should be centralized and build relationship between nation- and-nation and ASEAN members and Indo-Pacific. However, ASEAN state members are still keep connectivity between ASEAN corporation with China, ASEAN cooperation with Indo-Pacific in order to develop security, politic, economy and trade in the region.
Tong Soprach is a social-affairs columnist for the Post's Khmer edition.
 Comments: soprach.tong@phnompenhpost.com